DC 37 POLITICAL ACTION
Are you ready to vote? It's that time of year again! DC 37 members are standing in unity to get pro-worker candidates elected to the New York City Council. Here's all the information you need to cast your ballot in this year's elections.
2023 Generaction Schedule
The New York City General Election is on Tuesday, Nov. 7. Polls will be open from 6 a.m. to 9 p.m. You also have the option to vote at an early voting site between Saturday, Oct. 28 and Sunday, Nov. 5. Find your poll site location here or contact 311 or 1-866-VOTE-NYC for more information.
DC 37 Endorsed Candidates
The DC 37 membership has endorsed a great group of candidates! Check out the list below to see who we're supporting in your community.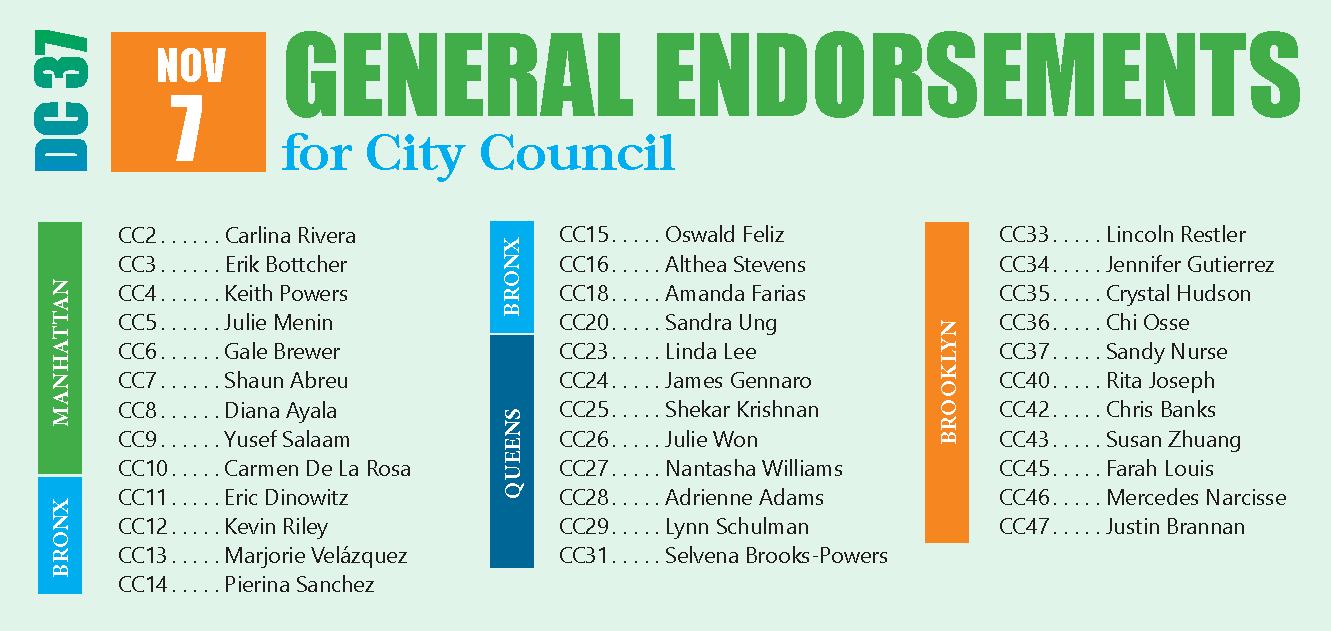 Vote "Yes" on State Ballot Proposals
Your election-day ballot will include two questions proposing changes to the New York State Constitution.
Removal of Small City School Districts Debt Limit - Vote Yes!
If this amendment passes, both small and large city school districts will be subject to the same debt limit rules. DC 37 supports this equitable amendment.
Ballot Question: The proposed amendment to Article 8, section 4 of the Constitution removes the special constitutional debt limitation now placed on small city school districts, so they will be treated the same as all other school districts. Shall the proposed amendment be approved?

Extending Sewage Project Debt Exclusion from Debt Limit - Vote Yes!
If this amendment passes, sewage treatment and disposal spending will not count towards debt limits until Jan. 1, 2034. DC 37 supports this amendment for critical infrastructure.

Ballot Question: The proposed amendment to Article 8, section 5 of the Constitution extends for ten years the authority of counties, cities, towns, and villages to remove from their constitutional debt limits debt for the construction of sewage facilities. Shall the proposed amendment be approved?
MUNICIPAL EMPLOYEES LEGAL SERVICES (MELS)
FINANCIAL EMPOWERMENT WORKSHOP
Please join us for a financial management workshop presented by Hannah Weinstock and Tony Huertas of the MELS Social Work Department, where we discuss:
Foundations of money management
Psychology of money
Financial prep for the holidays
How to develop a budget and create SMART goals
Discuss bankruptcy options and improving credit scores
Learning about financial resources
The second and third workshops in this three part series will take place on Wednesday, Nov. 1 and Wednesday, Nov. 8 from 6-7:30 p.m. Please register at www.dc37mels.com. For more information, call MELS Screening Unit at (212) 815-1111.
CO-PARENTING WORKSHOP: TWO HOUSEHOLDS RAISING CHILDREN TOGETHER – THROUGH THE HOLIDAYS AND BEYOND
Please join this important workshop on Thursday, Nov. 16, at 6-7:30 p.m. on co-parenting. Topics covered include:
Become a better communicator
Learn family management skills
Identify how to be the best version of yourself
Tips for de-escalating anger
Do you CMPQ?
Re-envision what it means to "win"
How parenting conflicts affect your legal case
Guest speakers are Lesley Friedland, Esq. and Yu Jiang from FamilyKind, a non-profit organization empowering children, parents and couples before, during and after separation or divorce, and Julianne Lewis, Esq., Co-Supervising Attorney on the MELS Family Law Unit.
Register at www.dc37mels.com.
For more information, call MELS Screening at (212) 815-1111.
DISABILITY ADVISORY COMMITTEE
The Disability Advisory Committee welcomes Naturopathic Physician Dr. Martine Delonnay to this month's committee meeting on Tuesday, Nov. 14, at 6 p.m. to share a presentation on Alzheimer's Disease Dementia. Please join us at the RingCentral link below. We look forward to seeing you there!
meetings.ringcentral.com/j/1483411409
Meeting ID: 148 341 1409
MEMORIAL SLOAN KETTERING DIRECT (MSK DIRECT)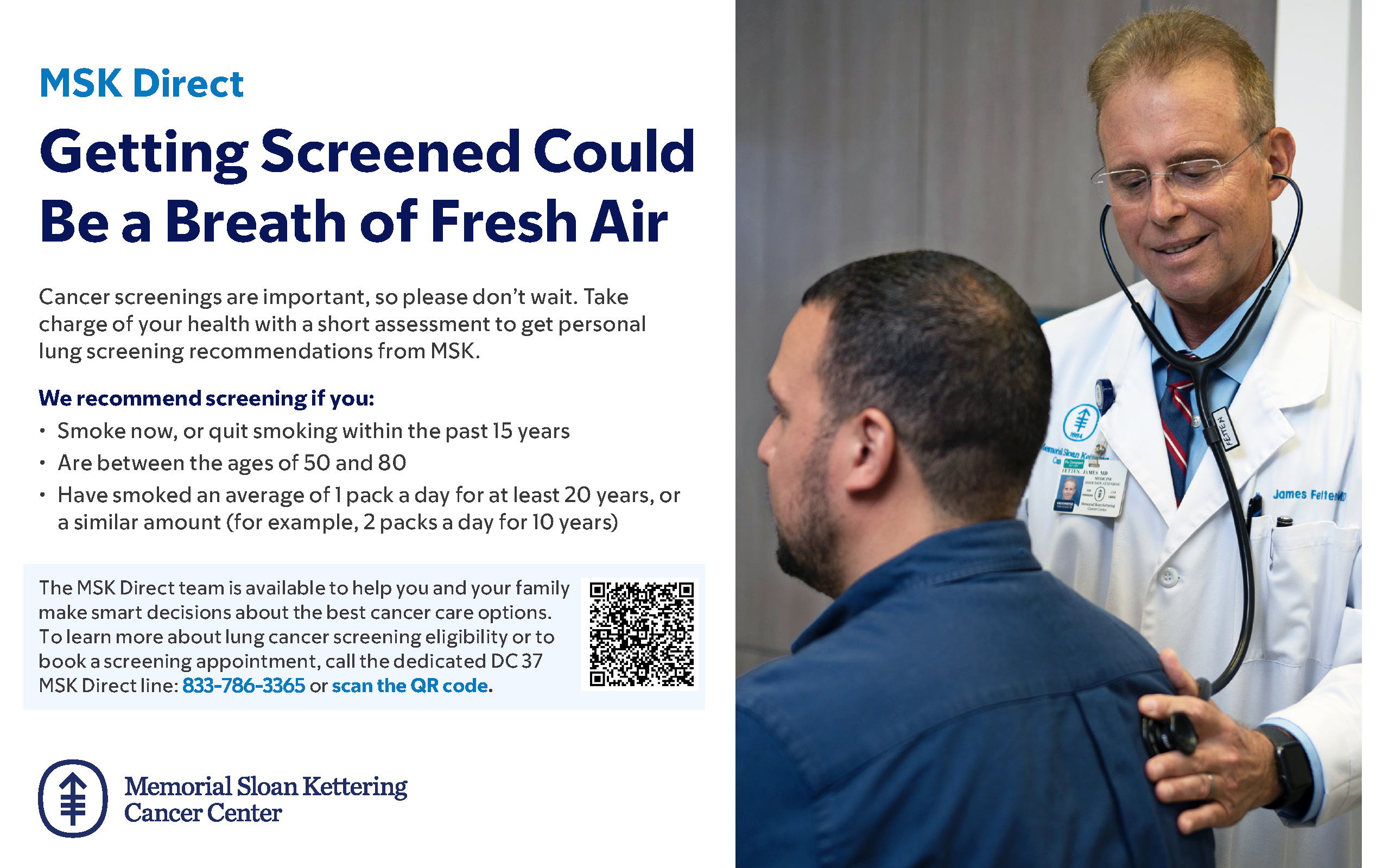 To learn more about lung cancer screening eligibility or to book a screening appointment, call the dedicated DC 37 MSK Direct line at (833) 786-3365 or scan the QR code on the image above using your phone's camera.
DC 37 EDUCATION FUND
Winter 2024 Registration for ED Fund Classes Has Begun!
Registration for the WINTER 2024 semester with the union's Education Fund is available on the DC 37 website.  You can find information on classes, schedules and register for a program by clicking HERE. Classes begin in January 2024.
NYC CAREER MAPS
The DC 37 Education Fund and CUNY's New York City Labor Market Information Service (NYCLMIS) have created career maps to promote the career development of the DC 37 membership. These online maps identify, illustrate and describe opportunities for advancement for selected covered job titles.
Career maps are available for the following fields:
Administrative and Data-Focused Health Care;

HVAC-R
IT Networking
Parks and Recreation
Patient-Care Focused Health Care
Software Development
You can view these maps HERE.
Be on the lookout for more Ed Fund career maps in the near future. For information, call the DC 37 Ed Fund at (212) 815-1700 or email [email protected].
EDUCATION AND CAREER COUNSELING
Do you need guidance selecting a class from our offerings, updating a resume or assistance reaching a career or educational goal? The DC 37 Education Fund is proud to offer counselling sessions to DC 37 members. Click HERE to schedule a virtual appointment. 
CUNY COUNSELING IS HERE FOR YOU!
The ideal time to plan for SPRING 2024 enrollment at the CUNY College of your choice in NOW! Let Worker Education at the CUNY School of Labor & Urban Studies (SLU) help guide you through the process of finding the best CUNY program to match your education and career goals.
Expert advisors offer FREE one-on-one phone sessions to DC 37 members. You may receive guidance on academic requirements for specific jobs, choosing a CUNY campus and major, applying to and financing a CUNY degree, certificate and non-credit options at CUNY, transferring previous credits, and more! Each session is free and tailored to your unique needs and goals. Schedule your session today by using the calendar HERE https://cunydays.eventbrite.com/.
Can't find a date or time that works for you? Email [email protected].
ADVANCED PUBLIC SPEAKING CLASSES
The Advanced Public Speaking class builds on foundational public speaking concepts by introducing and developing impromptu public speaking, adhering to strict time limits, incorporating source material, advanced use of visual aids and advanced persuasive speech. Classes begin in October and you must have already completed the basic Public Speaking class as a pre-requisite. For more information and to apply, please click HERE.
TEST PREP WORKSHOPS
The Ed Fund Test Prep/Math and Test Prep/Reading workshops assist members in improving their test-taking skills in the two primary academic areas. These six-session workshops are not tailored to a specific exam but develop general skill-building and strategies to improve your scores on competitive exams.
Math/Test Prep will be offered on six consecutive Tuesdays starting Jan. 23.
Test Prep/Reading will be offered on Thursdays beginning Jan. 25.
To register for one or both of these virtual workshops, click HERE.
CERTIFIED MEDICAL CODING EXAM PREP PROGRAM
The Certified Coding Specialist (CCS) prep course is an advanced level course, designed for those who currently work in a medical coding environment and/or already have own a CCA or other entry level coding certification. Classes begin in January and you must be one of the following to gain entry:
Currently certified as a Certified Coding Associate (CCS) or Certified Professional Coder (CPC)
Be a member of Local 768 in the title of Medical Records Librarian or Medical Records Specialist.
Documentation may be required before entry. For more information and to apply, please click HERE. 
UPDATE: THE GED IS BACK!
Since January 2022, the High School Equivalency exam is the GED again. However, there are changes to the exam and the way you schedule your test. There are four subtests on the exam instead of five. In addition to Mathematical Reasoning, Social Studies, and Science, the Reading and Writing sections have been combined in a subtest called Reasoning Through Language Arts. The good news is that passing scores from the tests taken between 2002 and 2021 count toward earning your diploma.
You must create your own GED account to schedule an exam. Information about the GED exam can be found at ged.com. The exams are primarily offered online and must be taken at an official GED testing center.
DC 37 offers prep classes for eligible members online, in person and hybrid through our partner colleges and are available in English and Spanish.
For additional information or to schedule an appointment with an Educational Counselor, please email [email protected].
MICROSOFT OFFICE CERTIFICATION PROGRAM AT HOSTOS
The Microsoft Office Certificate Program will provide students with the technical skills needed in today's work force, covering basic computer and keyboarding skills as well as Microsoft Word, Excel and PowerPoint. To register, click HERE.
RESUME WRITING AND INTERVIEW TECHNIQUES
Both of these virtual workshops are still available and accepting applications. As a follow-up to attending the workshops, an appointment will be scheduled for each attendee to assist with updating their resume and conduct a mock interview with the instructor. To register for Resume Writing, click HERE. To register for Interview Techniques, click HERE.
RETIREES EDUCATION COURSES FOR WINTER 2024
The Ed Fund is currently accepting applications for classes offered in the Winter 2024 cycle. Apply online by clicking HERE or by visiting https://www.dc37.net/benefits/education/deptclasses/retirees.
For questions, please contact Manuel Gomez-Rosa at [email protected] or call 212-815-1700.
IMPORTANT REMINDER
 If you are a DC 37 member, you should be receiving DC 37 Action Alerts & News at your non-work email address, definitely NOT your work email address, as this can be a violation of workplace rules. If you signed up using a work email address, please change it to a non-work email.